Fabco and ACF Team-up To address Stormwater Drainage Issues
stormwater drainage When the City of Salem in Massachusetts required an innovative solution to solve critical issues with their stormwater drainage, Fabco and ACF joined forces to provide a custom evolved stormwater solution to treat the problem at the two sources.
Facing a two-phase project affecting both the cities' North and South Rivers, including the Commercial Street neighborhood, ACF and Fabco Industries combined to employ both the FocalPoint system and Fabco's exclusive StormPods.
Fabco and ACF Proud To Offer Stormwater Drainage Solutions
Considering both the environmental problems this situation posed and the level of government compliance necessary, the City of Salem needed quick and effective solutions. ACF and Fabco were proud to assist by offering their proven innovative technology.
The Salem Sound Coastal Watch outlined the persistent problems the community faced in a presentation entitled "A 21st Century Approach to Cleaning Stormwater" at the City's 2016 symposium "Finding Solutions to Our Coastal Challenge."
The issues included oil and hydrocarbons left on the road by vehicular traffic and parking, sediments being washed into the North River due to missing landscape timbers that once contained the islands, and sediment and dog feces washing off Commercial Street and sidewalks ending up in the North River stormwater and outfall pipes.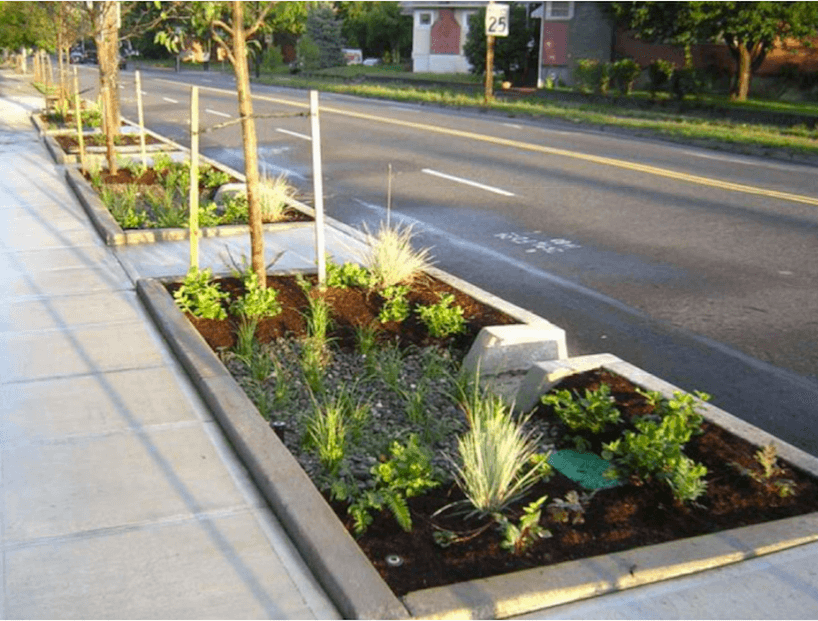 FocalPoint, a scalable biofiltration system, offered a next-generation biofiltration solution for the Commercial Street and South River Projects. The system combines the efficiency of high-flow rate engineered soils with the durability and modularity of a high-pervious flat, box-shaped underdrain.
Fabco's partner ACF, suggested the use of their patented StormPods, which are designed for stormwater hotspots such as parking lots, transportation centers, vehicle maintenance facilities, fueling locations, and industrial applications. The use of the StormPods allowed Fabco to effectively treat the major pollutants identified in surface water runoff. In both the Commercial Street and South River projects, this solution allowed the outlet screens to catch everything from oil to solids and floatables in the stormwater drainage system.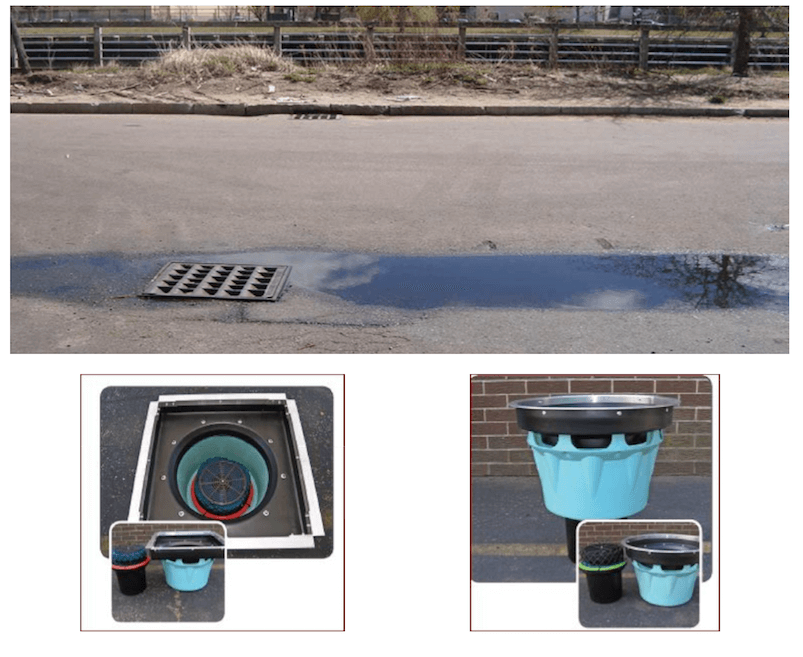 The Salem project showcased the capabilities of ACF and Fabco to combine environmentally effective new technology to handle unique circumstances. This example of a creative stormwater solution will have a lasting impact on the city's stormwater drainage issues for years to come. Working collaboratively within special parameters, ACF and Fabco successfully accomplished their mission.
Stormwater Drainage Reference
Stormwater management standards promote the use of stormwater drainage treatment practices to protect water quality, reduce runoff volume, maintain groundwater recharge, and address peak flows and flooding during larger storms. The standards reflect the stormwater retention and treatment requirements for land disturbance activities.
Stormwater drainage design is an integral component of both site and overall stormwater management design. Good drainage design must strive to maintain compatibility and minimize interference with existing drainage patterns; control flooding of property, structures and roadways for design flood events; and minimize potential environmental impacts on stormwater runoff.
Stormwater collection systems must be designed to provide adequate surface drainage while at the same time meeting other stormwater management goals such as water quality, streambank channel protection, habitat protection and groundwater recharge.
Drainage System Components
In every location there are two stormwater drainage systems, the minor system and the major system. Three considerations largely shape the design of these systems: flooding, public safety and water quality.
The minor drainage system is designed to remove stormwater from areas such as streets and sidewalks for public safety reasons. The minor drainage system consists of inlets, street and roadway gutters, roadside ditches, small channels and swales, and small underground pipe systems which collect stormwater runoff and transport it to structural control facilities, pervious areas and/or the major drainage system (i.e., natural waterways, large man-made conduits, and large water impoundments). Paths taken by runoff from very large storms are called major systems.
The major system (designed for the less frequent storm up to the 100-yr level) consists of natural waterways, large man-made conduits, and large water impoundments. In addition, the major system includes some less obvious drainageways such as overload relief swales and infrequent temporary ponding areas. The major system includes not only the trunk line system that receives the water from the minor system, but also the natural backup system which functions in case of overflow from or failure of the minor system.
Overland relief must not flood or damage houses, buildings or other property. The major/minor concept may be described as a 'system within a system' for it comprises two distinct but conjunctive drainage networks. The major and minor systems are closely interrelated, and their design needs to be done in tandem and in conjunction with the design of structural stormwater controls and the overall stormwater management concept and plan (
For further information on Fabco's evolved stormwater solutions, please go to Fabco-Industries.com.