R-Tank Underground Runoff Storage
R-Tank modules provide an efficient and versatile underground storage for stormwater runoff
to assist with stormwater detention, infiltration and rainwater harvesting applications.
Contact an Expert
R-Tank Underground Storage for Stormwater Runoff Overview
R-Tank modules provide an efficient and versatile underground storage for stormwater runoff to assist with stormwater detention, infiltration and rainwater harvesting applications. With 95% void space, this system will allow you to reduce your underground stormwater storage system footprint to resolve utility conflicts or free up space for a future expansion. Due to the patented design of the system, it is one of the most efficient systems on the market and is a cost-effective alternative to stormwater basins and other underground systems.
R-Tank Can Be Used In Detention, Infiltration, and Rainwater Harvesting Applications.
R-Tank is among the most efficient options available for underground stormwater systems. When space is at a premium and the smallest possible footprint is needed to free up space for utilities and other site elements, R-Tank is 95% efficient, making it the perfect option. And with module heights ranging from 2″ to nearly 7′, there is sure to be a tank that will fit your needs.
The system is an alternative to stormwater basins and a more efficient, space saving alternative to other underground systems. After a rain event fills the R-Tank, stormwater can flow into the drainage system, infiltrate into the ground, or be reused.
R-Tank Underground Storage for Stormwater Runoff
Available in Multiple Configurations
Five different module configurations (LD, HD, SD, UD & XD) provide module options from 2" to over 7' tall. In addition, R-Tank delivers support for HS-20 and HS-25 traffic loads, with cover depths ranging from 6" to over 16'.
A critical component of any R-Tank design is the geotextile fabrics used to wrap the tanks. The fabrics used can change the application. For instance, R-Tank can be designed to discharge the stormwater runoff into a drainage system, release the stormwater back into the ground, or contain the water for future use.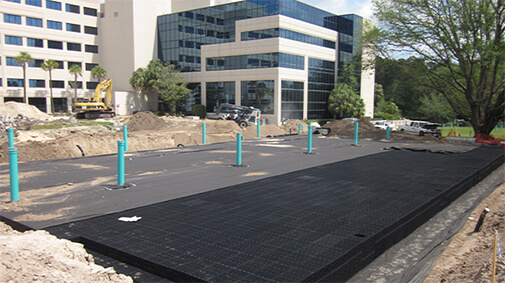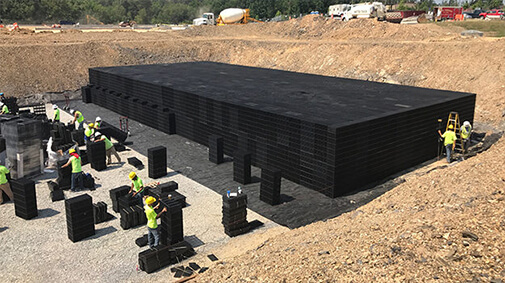 Advantages & Benefits
High-capacity (95% void space) and high-strength
Offers HS-20 and HS-25 support for traffic loads (with cover depths from 6″ to over 16′)
Modular design allows for easy installation in most footprints
Increased infiltration and ex-filtration
Easy-to-transport
Lightweight and quick to install
Permanent and maintainable storage volume
Can be pre-assembled or easily assembled on-site
Visit ACF Enivornmental to learn more about R-Tank.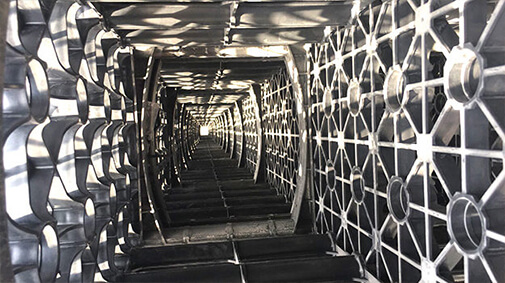 R-Tank Underground Stormwater Storage Supplements and Pre-Filters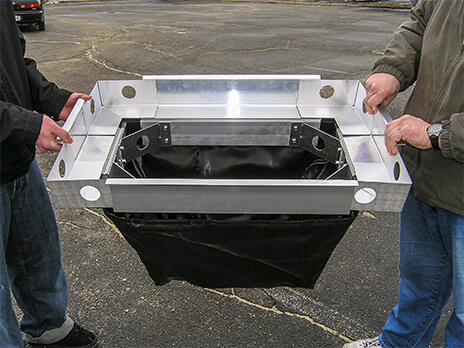 StormSack Geotextile Catch Basin Insert
Fabco's Most Popular Stormwater Filter
While there are two distinct product lines, our Geotextile Catch Basin Insert Systems StormSack Plus and StormSack BMP, offer different features and benefits, with both using a woven geotextile filter bag to treat the water.
This Geotextile bag provides high treatment flow rates while capturing fine sediments and other solids contained in stormwater runoff. By adding a simple oil absorbent boom to either model you can expand the functionality of this high flow filter to include oil compounds making it well suited to parking lots, vehicle maintenance yards and trash transfer sites.
StormSack is excellent as a prefilter providing an initial filtering step right at the storm drain inlet and before the water is sent to other Stormwater BMP designs such as detention ponds, infiltration areas or other proprietary filter devices. StormSack is easy to install and can be implemented quickly without new construction.
Connector Pipe Screen Trash Capture Filter Device Traps Trash and Debris Inside the Catch Basin While Allowing Filtered Stormwater to Exit Into the Storm Drain Infrastructure.
A Connector Pipe Screen (CPS) is a catch basin insert trash capture filter device. Unlike other catch basin inserts that are typically installed closer to the inlet (under the drain grate or below the curb opening), CPS inserts are installed in front of the catch basin's outlet pipe – trapping trash and debris inside the catch basin while allowing filtered stormwater to exit into the storm drain infrastructure.
Connector Pipe Screen (CPS)
Trash Capture Filter Device Insert Features:
Manufactured from perforated, 14 gauge, 304  stainless steel sheets
Perforations have a 5 millimeter diameter – screen has an open area greater than 50%
CPS net open area (when converted to an equivalent pipe diameter) exceeds the actual diameter of the outlet pipe leaving the catch basin – CPS can pass more volume than the outlet pipe it covers
Overflow / bypass prevents flooding if screen becomes blocked or covered
The CPS is designed to cover a specific pipe diameter – its size does not depend on the size of the catch basin drain. The CPS is a compact, affordable product that is easy to install and adaptable over a wide range of catch basin sizes and styles. The design utilizes very little space, maximizes the trash storage capacity within the catch basin and allows for easy maintenance.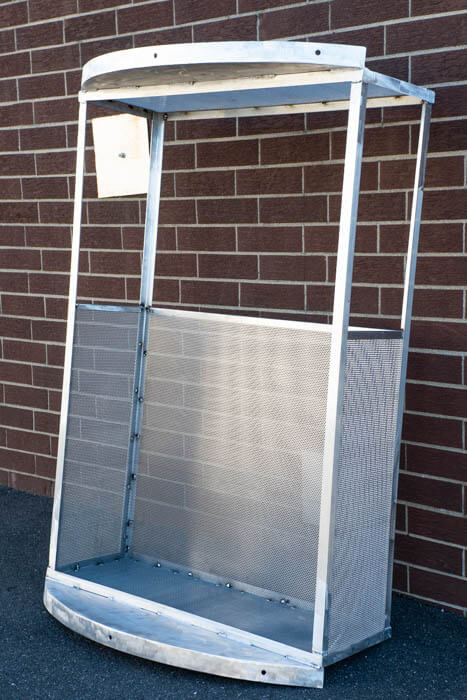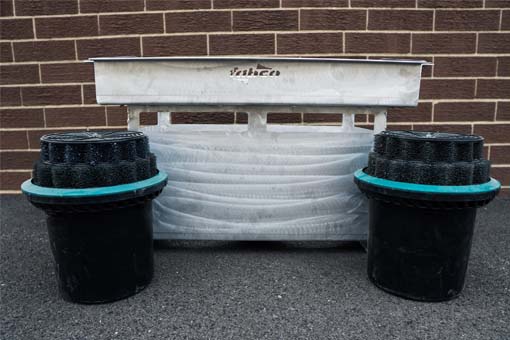 StormBasin™ BMP Rectangular Cartridge Based Inlet Filtration System
The StormBasin BMP is a special model in the StormBasin product line which is specifically designed to fit non-standard storm drain inlets; drain inlets with construction flaws and obstacles such as ledges, shallow depth or other irregularities and in situations where additional cartridges or treatment flow rate is requested.
Compare the StormBasin BMP Cartridge Based Inlet Filtration System Features:
The StormBasin BMP features a full, welded aluminum construction suitable for extreme duty or HD commercial use.
Large volume welded Aluminum collection basin
Custom sizes and filter configurations are available
Adjustable, aluminum support system with 2.0" of adjustability (X&Y) lets you adjust the filter size to fit real inlet dimensions and irregularities
Replaceable filtering cartridges target specific pollutants
Call for more information
Call for more information
Fabco Industries is a leader in stormwater filtration treatment products and engineering. Solve virtually any stormwater pollution challenge with our sustainable, simple-to-maintain filtration solutions. Our stormwater products are highly effective for various applications including retrofits, new construction, and green infrastructure.