R-Tank® stormwater modules provide underground storage for runoff. They can be used in detention, infiltration, and rainwater harvesting applications.
R-Tank is among the most efficient options available for underground stormwater systems. When space is at a premium and the smallest possible footprint is needed to free up space for utilities and other site elements, R-Tank is 95% efficient, making it the perfect option. And with module heights ranging from 2″ to nearly 7′, there is sure to be a tank that will fit your needs.
The system is an alternative to stormwater basins and a more efficient, space saving alternative to other underground systems. After a rain event fills the R-Tank, stormwater can flow into the drainage system, infiltrate into the ground, or be reused.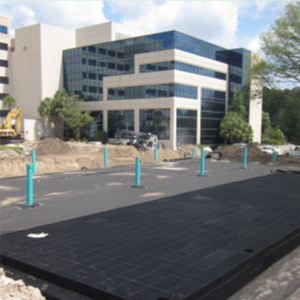 It is available in multiple configurations (Standard, HD, SD and XD) to fit a variety of depth and loading requirements. And with an unlimited array of possible design layouts, the R-Tank can adapt to your project to make the most economical systems possible. Strong. Versatility. Cost-Effective. That's R-Tank!
R-Tank system can be easily modeled, allowing simplified analysis of the devices' behavior in a drainage and stormwater management system.

Advantages & Benefits
High Capacity
Modular Design Footprints
High Strength
Increased Infiltration and Ex-filtration
Easy to Transport
Call for more information
Call for more information