FocalPoint Biofiltration
Scalable biofiltration system with flow rate, box-shaped underdrain that can be constructed for
water detention, retention/infiltration and rectcling/harvesting.
Contact an Expert
FocalPoint High Flow Biofiltration System Overview
FocalPoint's next generation high-flow biofiltration system is the key to its high performance. This advanced media technology provides high flow rates and best available pollutant removal rates for common stormwater pollutants and as an option can be modified for enhanced performance on certain targeted pollutants. FocalPoint's reliable, high performance biofiltration enables reduced footprints, new application options and lower installation and maintenance costs.
FocalPoint is an ultra-efficient, modular biofiltration system that treats and drains large volumes of stormwater runoff in a small footprint (up to 90% smaller than traditional bioretention systems) to meet post-construction stormwater treatment requirements. The system removes pollutants from stormwater runoff through the physical, chemical and biological mechanisms of its soil, plant and microbe complex. Infiltration flow rates for the system's standard media exceed 100″ per hour.
Due to the small footprint, the system can be installed along the edge of a roadway behind curb lines, in landscaped stormwater basins and in urban green infrastructure streetscapes. We recommend reaching out to our team for state-specific installation information. To date, successful installs have occurred in most states on the east coast and in West Virginia.
Fabco's Beehive Filter can be added to capture floatables and solids in any type of round bypass infrastructure.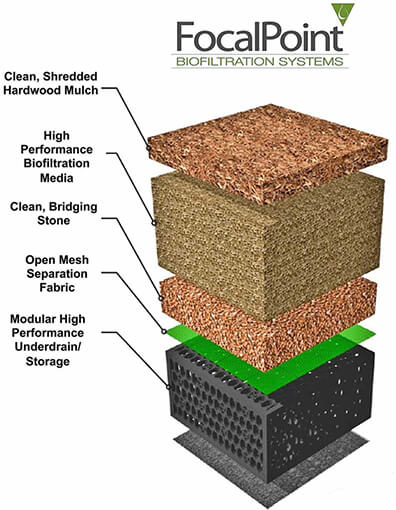 FocalPoint High-Flow Biofiltration System Diagram
Modular Underdrain
FocalPoint's modular underdrain system can be expanded beyond the footprint of the media bed. This provides unlimited underground detention, infiltration and/or storage for water reuse. In addition, it helps meet channel protection, infiltration and flood control requirements.
Pollutant Removal
FocalPoint High-Flow Biofiltration system achieves pollutant removal rates consistent with traditional bioretention with the option of increased removal characteristics for specific pollutant targets. The system has earned numerous agencies' approvals for meeting state water quality standards for post construction BMPs.
Key Benefits:
Compact size saves valuable square footage
Improve system performance – water quality and longevity
Reduced material requirements and cost
Improve property aesthetics and value
Visit ACF Environmental for more information.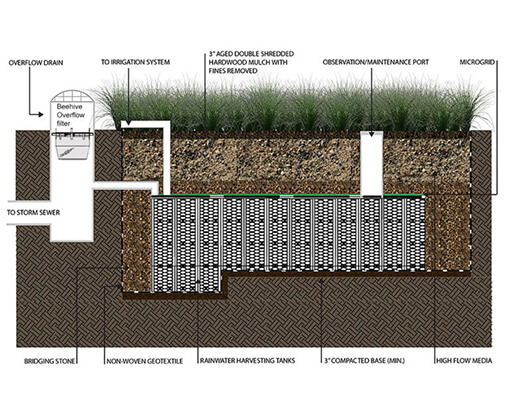 FocalPoint High-Flow Biofiltration System Cutaway
Fabco Industries is a leader in stormwater filtration treatment products and engineering. Solve virtually any stormwater pollution challenge with our sustainable, simple-to-maintain filtration solutions. Our stormwater products are highly effective for various applications including retrofits, new construction, and green infrastructure.