Precast Vault Project In MA
A precast vault project was developed at Jackson Square Partners, a collaboration of three community based non-profit organizations created a mixed-use development based on a comprehensive planning effort aimed at creating a balanced community. The LEED for Neighborhood Development Pilot precast vault project, which earned a Silver Certified Plan rating, includes development of three lots around the Massachusetts Bay Transportation Authority's (MBTA) Jackson Square station. Nitsch Engineering of Boston, MA provided survey, civil and transportation engineering services for the precast vault project that included stormwater infrastructure.   Being within the jurisdiction of the Boston Sewer and Water Commission, EPA and Charles River Watershed Association, a targeted effort of meeting stringent nutrient (phosphorus) reduction goals was made, and as such the Engineer of Record specified that a Level 2 evaluated filter per the MaSTEP stormwater BMP database be utilized on the precast vault project.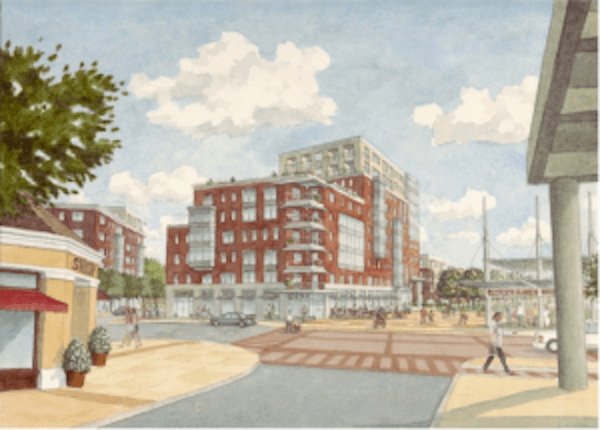 FABCO Industries engineering team worked with the site contractor, Terratec Construction, of Marlborough, MA, to evaluate the precast vault project specifications and obtain approvals for a treatment system that included a 14 cartridge HydroSystem filter housed in a precast concrete vault. With approvals in hand, the precast vault project was installed in the Winter of 2014 and will be commissioned later this year.
More information about the FABCO precast vault project with HydroSystem Filter (an exclusively distributed product from Jensen Precast in California) can be obtained by contacting FABCO Industries at +1 631-393-6024.
Precast Vault Project Reference
The New York City Department of Environmental Protection (DEP) is responsible for the city's drainage plan and stormwater management. Through DEP approval of sewer certifications (approval that the City sewer can accept the proposed discharge) and subsequent sewer connection permits (authorization to connect to a sewer), DEP limits the "allowable flow" from development lots to provide adequate capacity in the sewer system based on sewer design criteria. Recently, DEP has revised its stormwater rules for new development and redevelopment in combined sewer areas.
The new performance standard is intended to reduce peak discharges to the city's sewer system during rain events by requiring greater onsite storage of stormwater runoff and slower release to the sewer system. The implementation of DEP's stormwater performance standard over time is expected to provide additional capacity to the existing sewer system, thereby improving its performance.
The performance standard is a key element of the New York City Green Infrastructure Plan (the "NYC Green Infrastructure Plan") to promote green infrastructure and improve water quality in the city's surrounding waterbodies.
Purpose and Scope of Document DEP's stormwater performance standard is intended to reduce adverse impacts on the city's combined sewer system from runoff during rainstorms that are more severe than sewers and related facilities are designed to handle. When excessive stormwater enters the combined sewer system from impervious surfaces, it can cause combined sewer overflows (CSOs), flooding, and sewer backups.
By slowing the flow of stormwater to the sewers, the stormwater performance standard allows the city to manage stormwater runoff from new development and redevelopment more effectively and maximize, to the greatest extent possible, the capacity of the city's combined sewer systems.
These guidelines were developed by DEP, in consultation with the New York City Department of Buildings (DOB), to provide guidance to New York City's development community and licensed professionals for the planning, design and construction of onsite source controls that comply with DEP's stormwater performance standard. The stormwater performance standard was promulgated on [DATE] as an amendment to Chapter 31 of Title 15 of the Rules of the City of New York, Rule Governing House/Site Connections to the Sewer System Standards for Release Rates ("Chapter 31").
These guidelines reflect the requirements of these rules and the New York City Construction Codes ("Construction Codes"), as administered by DOB. While these guidelines are provided to assist the development community, licensed professionals always maintain the responsibility to submit acceptable designs in accordance with all applicable laws, rules, and regulations and property owners are responsible for maintaining onsite constructed systems.
Stormwater Performance Standard Section 3 of Chapter 31 was revised to include the Stormwater Performance Standard for Connections to Combined Sewer System ("stormwater performance standard"). As a result, the following requirement applies to proposed developments that require a New Building permit from DOB ("new development") in combined sewer areas of the city:
The Stormwater Release Rate must be no more than the greater of 0.25 cfs or 10% of the Allowable Flow or, if the Allowable Flow is less than 0.25 cfs, no more than the Allowable Flow. For proposed redevelopments in combined sewer areas of the city, the following requirement applies to "alterations," as defined in the Construction Codes and related requirements, for any horizontal building enlargement or any proposed increase in impervious surfaces:
The Stormwater Release Rate for the altered area must be no more than the stormwater release rate for the entire site, determined in accordance with the requirement above, multiplied by the ratio of the altered area to the total site area. No new points of discharge are permitted. The EPA