By Jeff Fullmer, Fabco Watershed and Regulatory Services
Fabco recently joined its partner ACF Environmental at the 16th Annual 3 Rivers Wet Weather Sewer Conference near Pittsburgh PA to participate in discussions about the application of Green Infrastructure (GI) and low impact development (LID) strategies and to exhibit a range of products to resolve wet weather issues.
The greater Pittsburgh area and its wastewater systems which include stormwater management are focusing on implementing a revised EPA wet weather plan to reduce combined sewer overflows and advancing greater regionalization to achieve this goal.  Part of this effort will mean implementing a growing commitment to source reduction through green infrastructure to improve water quality protection.  Similarly, municipalities are seeking new and cost efficient approaches to meet requirements of EPA Phase II National Pollutant Discharge Elimination System (NPDES) permits to reduce the impacts of polluted urban stormwater runoff.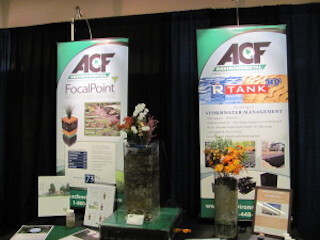 Fabco and ACF staff interacted with a diverse group of interested conference attendees anddemonstrated products which can be applied singularly or in combination to implement GI strategies to reduce volume to combined sewer systems and to remove stormwater pollutants closer to their source.  These included the StormBasin™ catch basin filter insert, the FocalPoint high performance modular biofiltration system, the R-Tank subsurface modular water storage and infiltration system, and the PaveDrain permeable paver system.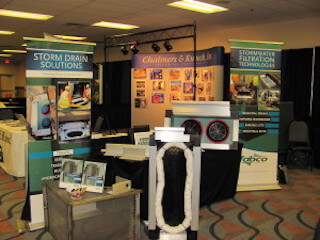 One excellent example of the application of these types of products in action was captured in a conference poster exhibit by the Borough of Etna, PA outside of Pittsburgh. Etna's Green Streetscapeproject included the installation of the StormBasin Catch Basin Filter Insert, the Focal Point high flow biofiltration system, modular subsurface water storage units and a permeable paving system in parking areas. Fabco and ACF look forward to continuing to assist the public and private sector by providing innovative solutions to resolve wet weather issues.
Green Infrastructure Reference
Green infrastructure uses natural processes to improve water quality and manage water quantity by restoring the hydrologic function of the urban landscape, managing stormwater at its source, and reducing the need for additional gray infrastructure in many instances. These practices are designed to restore the hydrologic function of the urban landscape, managing stormwater at its source and reducing or eliminating the need for gray infrastructure.
An important objective of green infrastructure is to reduce stormwater volume, which improves water quality by reducing pollutant loads, stream bank erosion, and sedimentation. When green infrastructure is employed as part of a larger-scale stormwater management system, it reduces the volume of stormwater that requires conveyance and treatment through conventional means, such as detention ponds.
Green infrastructure practices can be integrated into existing features of the built environment, including streets, parking lots, and landscaped areas. Green infrastructure practices can be a viable option for managing stormwater in highly urbanized and infill situations where development density is desired and offsite mitigation is not a preferred alternative.
This document provides approaches local government officials and municipal program managers (Figure 1) in small to midsize communities can use to incorporate green infrastructure components into work they are doing in public spaces. The guide demonstrates ways in which projects can be modified relatively easily and at a low cost recognizing that municipal resources can be limited. Implementing projects in public spaces can showcase the aesthetic appeal of green infrastructure practices and provide a visual demonstration of how they can function.
This real-life context will also allow residents, businesses, and local governments to experience additional benefits and values of many green infrastructure practices—more walkable streets, traffic calming, green public spaces, shade, and enhanced foot traffic in retail areas.
Municipal managers can then use the experience gained from the design, installation and maintenance green infrastructure projects to help tailor regulations and incentive programs and make green infrastructure easier to implement in the future.
These highlighted examples and case studies show how integrating green infrastructure methods can enhance retrofits and maintenance projects and also provide multiple community benefits. Local governments are in a unique leadership position to further green infrastructure within their communities. The U.S. Environmental Protection Agency (EPA) hopes that by using this guide localities can begin to institutionalize the use of green infrastructure in their municipal operations.