Fabco Solves Major Stormwater Problems in Garden Grove CA With Using Grant Funded Stormwater Project Money
In 2021, the City of Garden Grove completed a difficult stormwater project with help from the specialists at Fabco Industries, Inc. The project, paid for through a grant funded stormwater project provided by the California Department of Resources Recycling and Recovery, targeted trash/debris and oil/grease using a selection of Fabco's retrofittable filtering devices.
Fabco Solutions provided for Trash reduction:
Connector Pipe Screens (CPS)
New ScreenBox insert.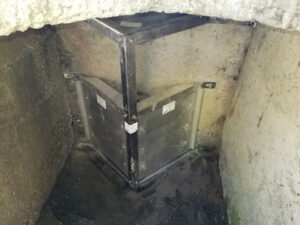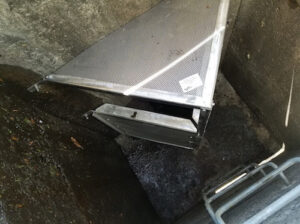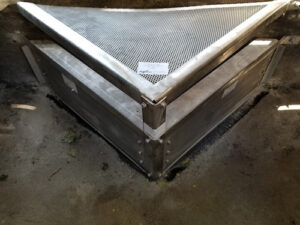 The City of Garden Grove is located approximately 34 miles southeast of Los Angeles and 15 miles directly west of the Pacific Ocean. Garden Grove has a population of over 170,000, over 1000 catch basins and more than 600 miles of curb and gutter that drain to 4 municipal flood control channels. These channels control water flow from storm drains and other runoff, channeling the water into the bay or ocean.
For this project, Garden Grove designated 20 existing catch basins to be retrofitted, ideally with Connector Pipe Screen units placed inside each of the catch basin sub-surface vaults. Mr. Albert Eurs, Supervisor of the Department of Trees and Flood Control, was tasked with choosing a manufacturer. From previous experience, Mr. Eurs knew each drain inlet needed a careful physical survey to understand potential issues that would affect product selection and installation. In an earlier project, a manufacturer had installed CPS units in two catch basins that had failed to function properly, causing stormwater to back up in the pipes, flooding the surrounding area.
To avoid similar problems, Mr. Eurs focused on finding a company willing to work closely with his group to understand what was requested. He wanted a team that could recommend a series of viable products based on physical surveys and that would manufacture and deliver each of the filter units to the site. Mr. Eurs chose Fabco, a company with over 20 years of manufacturing experience, a comprehensive line of retrofi products and a track record of working directly with customers on difficult real-world projects.
Fabco began by sending a survey team to each drain to take pictures, record physical dimensions and make observations. The data were sent to the Fabco engineering department for product recommendations and to assist with initial design concepts. Fabco had to be sure the designs satisfied the customer while meeting the requirement of the state regulatory board, which approved all the supplied devices.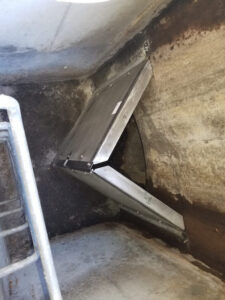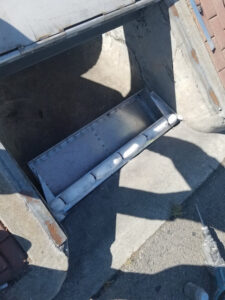 The site review and survey for the Grant Funded Stormwater Project:
18 of the 20 drains could be retrofitted with CPS devices. The smallest design was for a 12" pipe the largest for a 46". The majority were sized for pipes over 24" with 6 being more than 30". Based on the size of the pipes and the expected water pressure, typical CPS devices assembled in the field using metal screws (offered by competitors) would not be strong enough. The Fabco CPS designs solved that problem.
The products were all pre-made at the factory and featured a HD triangular shape that was hinged at the apex and at the mounting flanges for adjustability and extra rigidity. Additionally, they were reinforced at the edges with welded, stainless angles for strength and to minimize sharp edges present on many other designs.
The survey also revealed 13 catch basin vaults that had concave-shaped floors to help direct small flows of water across the surface between the inlet and outlet pipes. Previous suppliers had supplied flat bottom CPS units which failed to cover the gap between the bottom of the CPS unit and the curved floor. Fabco engineered a custom adaptor that could be fitted to its CPS devices that closed the gap and insured that all the water would be filtered through the Connector Pipe Screen as required.
New CPS application for Grant Funded Stormwater Project:
Under the grant approval, the city also needed the CPS devices to provide a second level of filtration beyond trash and debris retention. On the streets where the drains were located, elevated levels of hydrocarbons from vehicle traffic were detected.
The city wanted these additional pollutants treated by the CPS devices. This was a totally new application for a CPS. No other manufacturer had developed or offered a CPS product to meet this hydrocarbon requirement. Using technology and experience from its other insert filter products, Fabco developed a hydrocarbon absorbent screen for its CPS units that was simple, inexpensive and easily replaced while still filtering the design treatment flow for the associated catch basin. This innovative design was accepted by the California Department of Resources Recycling and Recovery and will be recommended in future city projects.
Each CPS was labeled for its associated catch basin to help speed installation.
The final 2 catch basin inlets were not adaptable to a CPS but could accept a modified version of Fabco's perforated ScreenBox catch basin insert. These were also outfitted with oil absorbent booms.
At the conclusion of the project Mr. Eurs summed up his experience by stating, "The city is extremely pleased with the quality of Fabco products as well as the ease of installation. We found the personal service we received from Fabco exemplary. Fabco Industries is a great company to work with and we look forward to working with them on future projects."
Read more about CA Storm Water Grant Program (SWGP)
About Fabco Industries:
Fabco Industries is a leader in stormwater management. We design and manufacture high performance storm water filter systems that are highly effective for various treatment applications including retrofits, new construction and green infrastructure. Our range of cost-effective, durable products are designed to meet increasingly stringent pollution control regulations and best management practices for municipal and commercial stormwater markets.
We offer sustainable, simple-to-maintain filtration solutions to meet virtually any stormwater pollution control challenge. Innovative technology.  Proven performance.  Unbeatable quality and value.  Discover all the reasons why Fabco gives you…Evolved Stormwater Solutions.
For more information go to Fabco-Industries.com or ore email us at  [email protected]