Fabco Is The Leader At Improving Stormwater Quality
Improving stormwater quality was the goal. In accordance with the Trout Brook Watershed Management plan prepared by the city of South Portland, M.E., Fabco Industries recently installed a FocalPoint Biofiltration System in a high volume area to preserve the water quality and aquatic habitat of Trout Brook. The system was installed at the nearby Church of the Latter Day Saints, which funnels a heavy amount of stormwater runoff into the stream. Fabco worked with the city of South Portland and the Cumberland County Soil and Water Conservation District to execute the project to improve stormwater quality.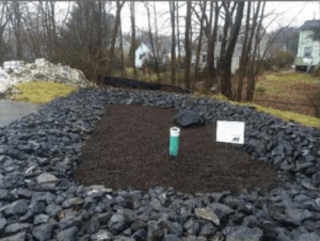 Prior to installation, Fabco completed a watershed study, worked with the city to locate and optimize the design of the system, and served as the main engineer on the project. Trout Brook has been listed as an urban impaired stream by the Maine Department of Environmental Protection because it is not meeting state water quality classifications due to polluted runoff and increased storm flow volume from impervious surfaces such as rooftops, parking lots and roads.
The city outlined several goals in its approach to restoring Trout Brook and improve stormwater quality : 1) ensuring that the watershed provides a good habitat for fish and other wildlife, 2) improving the management of stormwater runoff for existing development in an effort to improve stormwater quality, and 3) building community support for the protection and enhancement of the land and water resources of the Trout Brook watershed and ultimately improve stormwater quality.
Considering the area was heavily developed, FocalPoint represented an ideal choice as a space-efficient, cost-effective green infrastructure solution.
Improve Stormwater Quality in NYC
In 2018, New York City Council passed Local Law 172,4 which required the City to produce maps showing areas of the city most vulnerable to increased flooding due to the anticipated effects of climate change and publish a long-term plan to prevent or mitigate such increased flooding. Consistent with the Local Law, the plan and maps will be updated at least every four years, and periodically as new modeling is available and as climate change projections are updated. The Stormwater Resiliency Plan (the "Plan") outlines the City's approach to managing the risk of extreme rain events.
Truly holistic planning for rain-driven flooding involves consideration of both large storm events and the chronic worsening of average conditions. For this reason, the Plan addresses emergency response procedures as well as accounting for increasing rainfall in standard design and long term planning of stormwater infrastructure. The Plan commits to four goals that optimize emergency response to extreme rainfall events and ensure that future City investments manage this climate risk. Each goal includes supporting subinitiatives.
1. Inform the public about flood vulnerability from extreme rain;
2. Update NYC's flash flood response procedures to prioritize response in vulnerable areas;
3. Advance policies that reduce urban flooding and research that informs future risk;
4. Leverage stormwater investments to help manage future flood risk from extreme rain and sea level rise. Future investments can alleviate flooding throughout the city. This document provides an overview of NYC's existing drainage network, which is critical to understanding the base capacity to manage rain-driven flooding in the future.
Flash flood emergency procedures are also examined for optimization under increasingly extreme conditions. The document interprets findings from the modeling effort, presents the public stormwater maps, and finally outlines the actions the City is taking to manage this climate risk.
INTRODUCTION 5 | NYC STORMWATER RESILIENCY PLAN NYC.GOV/RESILIENCY STORMWATER INVESTMENTS
Understanding NYC's drainage network is essential to stormwater resiliency planning. DEP manages the City's water and wastewater services and has been committed to investments in, and policy changes around, drainage improvement, green infrastructure and on-site stormwater management. These have the added benefit of reducing the amount and slowing the rate of stormwater entering the City's sewer system.
At the time of this report, the NYC Green Infrastructure Program has led to over 10,000 green infrastructure projects constructed or currently in construction. Green infrastructure describes an array of practices that use or mimic natural systems to manage stormwater runoff, taking into account site-specific context.
Over the last 30 years DEP has constructed Bluebelts (nature-based drainage systems) for approximately one third of Staten Island's land area to provide location-specific drainage and preserve ecological function.
DEP's combined improvements to the drainage network, along with the Bluebelt network and green infrastructure improvements, have increased NYC's capacity to absorb extreme rainfall. DEP's 2021 10 year capital plan includes $4.6B for sewer improvements and the agency has committed $3.8B in sewer upgrades across the city over the past 10 years