By Jeff Fullmer, Fabco Watershed and Regulatory Services
Fabco recently joined its partner ACF Environmental at the 16th Annual 3 Rivers Wet Weather Sewer Conference near Pittsburgh PA to participate in discussions about the application of Green Infrastructure (GI) and low impact development (LID) strategies and to exhibit a range of products to resolve wet weather issues.
The greater Pittsburgh area and its wastewater systems which include stormwater management are focusing on implementing a revised EPA wet weather plan to reduce combined sewer overflows and advancing greater regionalization to achieve this goal.  Part of this effort will mean implementing a growing commitment to source reduction through green infrastructure to improve water quality protection.  Similarly, municipalities are seeking new and cost efficient approaches to meet requirements of EPA Phase II National Pollutant Discharge Elimination System (NPDES) permits to reduce the impacts of polluted urban stormwater runoff.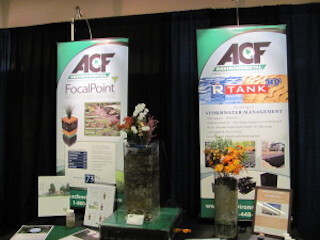 Fabco and ACF staff interacted with a diverse group of interested conference attendees anddemonstrated products which can be applied singularly or in combination to implement GI strategies to reduce volume to combined sewer systems and to remove stormwater pollutants closer to their source.  These included the StormBasin™ catch basin filter insert, the FocalPoint high performance modular biofiltration system, the R-Tank subsurface modular water storage and infiltration system, and the PaveDrain permeable paver system.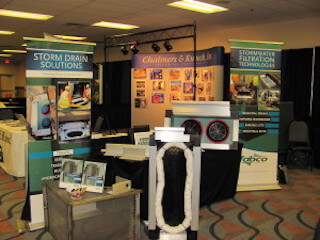 One excellent example of the application of these types of products in action was captured in a conference poster exhibit by the Borough of Etna, PA outside of Pittsburgh. Etna's Green Streetscapeproject included the installation of the StormBasin Catch Basin Filter Insert, the Focal Point high flow biofiltration system, modular subsurface water storage units and a permeable paving system in parking areas. Fabco and ACF look forward to continuing to assist the public and private sector by providing innovative solutions to resolve wet weather issues.