Fabco Industries, Inc. is pleased to announce its proprietary FABGUARD anti-microbial pesticide is now registered in the state of California in addition to 17 other key stormwater markets.
In 2015, FABGUARD was granted pesticide registration with the United States Environmental Protection Agency (EPA). Since that time it has been registered for use in the following markets – Connecticut, Delaware, Florida, Massachusetts, Maine, Maryland, Michigan, New Hampshire, New Jersey, New York, Ohio, Pennsylvania, Rhode Island, South Carolina, Texas, Virginia, and Vermont.
FABGUARD media has been tested extensively under diverse laboratory and field conditions. It is an effective solution for reducing coliform bacteria in stormwater, industrial wastewater and municipal wastewater applications.
"FABGUARD is an innovative solution that complements our other filter media products and we are proud to have it registered in California – the most aggressive and demanding stormwater market in the U.S.," said John Markee, Fabco's Vice President of Sales and Marketing. "Its unique physical properties allow sustained high flow rates while still providing exceptional treatment of coliform bacteria. For example, when FABGUARD is applied to our Helix filters, relatively compact systems can effectively treat large volumes of water."
When combined with Fabco's stormwater filtration systems, FABGUARD can be configured to reduce bacteria using centralized or decentralized treatment at varying flow rates.  FABGUARD can be applied to catch basin inserts like StormBasin and StormPod systems for retrofit applications. FABGUARD also works with end-of-pipe solutions such as the cartridge-based StormSafe and high-flow Helix vaults.
"The effectiveness of FABGUARD media is even better than anticipated," said Markee. "FABGUARD sets a new standard for filtering coliform bacteria."
FABGUARD filter media benefits:
·      Reduction of coliform bacteria
·      Effective treatment at high-flow rates
·      Lightweight, easy to handle and deploy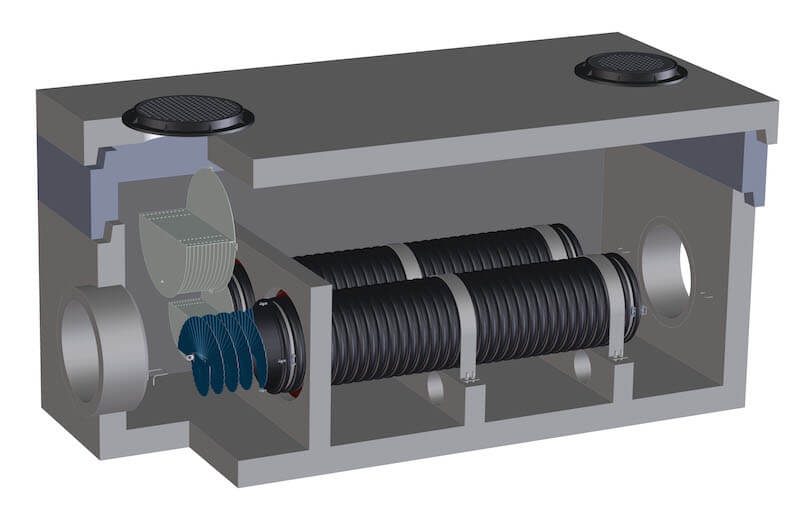 Federal – US Environmental Protection Agency Office of Pesticides Program – EPA Registration #90270-1
California – State of California Department of Pesticides Registration- Regulation License #66083, Registration Number: 90270-1-AA
About Fabco Industries:
Fabco Industries is a leader in stormwater management and providing stormwater solutions to engineer a better environment. The company designs and manufactures high-performance stormwater filter systems that are highly effective for various treatment applications including retrofits, new construction and green infrastructure.
Fabco's range of cost-effective, durable products, are designed to meet increasingly stringent pollution control regulations and best management practices for municipal and commercial stormwater markets.
The Farmingdale, N.Y. based company offers sustainable, simple-to-maintain filtration solutions to meet virtually any stormwater pollution control challenge. With innovative, patented technology, a stellar reputation of proven performance, and high-quality products, Fabco is proud to provide "Evolved Stormwater Solutions."
For more information on FABGUARD filters and the municipalities in which they are registered, please visit fabco-industries.com or contact John Markee at (631) 393-6024 ext. 114.