How Catch Basin Filter Inserts improve The LI Sound
The Long Island Sound (LIS) with watershed drainage from a large portion of New England was designated an "estuary of national significance" in 1987 by the US EPA and was one of the first estuaries to be included in the National Estuary Program.  Since that time, a variety of policy efforts to improve water quality using the technology of catch basin filter inserts, the LIS region have been undertaken consistent with recommendations of the Long Island Sound Study.  
Until recent years, practical actions to reduce polluted runoff in the LIS watershed have been a lower priority.  Fortunately, that is changing due to the measurable negative impacts of polluted stormwater on water quality from urban and ultra urban landscapes and a growing resolve by LIS protection advocates including local governments, environmental engineering firms and community organizations to attack the problem with practical solutions that would require catch basin filter inserts.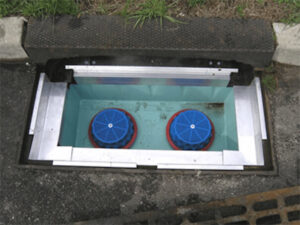 One good example of this resolve is where Fabco StormSack™ catch basin filter inserts were installed in recent projects by the Town of Mamaroneck and the Village of Scarsdale in Westchester County, NY. Both municipalities are located in LIS drainage watershed and have been leaders in addressing the problems of polluted stormwater.
Fabco's filter inserts were installed in an initiative to reduce sediment loadings, hydrocarbons and floatable marine debris/ trash from impervious surfaces such as roads and parking areas which drain directly to priority watersheds and tributaries of the LIS. Both projects were partially supported by the Long Island Sound Futures Fund (LISFF) grant program administered by the National Fish and Wildlife Foundation.
Major funding for the program is provided by the U.S. Environmental Protection Agency, Long Island Sound Study, U.S. Fish and Wildlife Service, and USDA Natural Resources Conservation Service. Fabco is pleased to partner with these stakeholders in providing evolved stormwater filtration solutions that are flexible, cost effective and can be implemented quickly.
EPA National Estuary Program Reference
The EPA National Estuary Program (NEP) is a unique and voluntary program established in 1987 under the Clean Water Act Amendments (CWA). A successful ecosystem-based management program, it works to restore and maintain the water quality and ecological integrity of estuaries of national significance. To achieve these goals, NEPs involve community members and other key partners to develop and implement a management plan.
Citizens are fully engaged throughout this process to ensure that local needs are addressed in this Comprehensive Conservation and Management Plan (CCMP). The CCMP contains specific actions to apply CWA programs in a way that fully supports these local priorities. The 28 NEPs across the country have demonstrated an impressive ability to secure and leverage funds, protect and restore coastal habitats, and broaden public understanding of estuaries. NEPs have also made substantial gains in identifying environmental challenges and tackling complex water quality and ecosystem issues.
The NEP looks broadly across the watershed and recognizes the connection between upstream sources of pollution and downstream impacts. It offers an effective means of securing commitments necessary to achieve tangible environmental results.
Each NEP consists of a collection of stakeholders, organized in a decision-making framework that facilitates collaboration, consensus-building, and public input. NEP stakeholders typically include representatives from Federal, state and local governments, nonprofit organizations, affected business and industries, academia, and the general public. EPA is a participant and provides management guidance, along with financial and technical assistance.
Together the group works to articulate common goals and take action to address a wide range of issues in their CCMP. NEPs are guided by a director and staff that are housed in a program office located within the estuarine watershed. NEPs work to improve the health of their estuary – its waters, habitats, and living resources within a particular geographic boundary encompassing the estuary and surrounding environments.
NEPs and their partners have protected and restored over 1 million acres of habitat since 2000. The habitat efforts carried out by the NEPs, their partners, and many volunteers have yielded measurable environmental results.
These projects not only improve the coastal habitats directly, but the water quality in these estuaries, rivers, streams, and wetlands as well, thereby benefiting the living resources that are found in or use these vital places. For example, NEPs work to enhance riparian areas, thus reducing pollution entering rivers and streams that would adversely impact fish and other aquatic life. NEPs also conduct projects to restore tidal flow to wetlands, enabling them to better capture sediments and filter pollutants.
To protect shorelines and minimize coastal erosion, some NEPs construct "living shorelines" by placing native plants and biodegradable organic materials near the water's edge. This creates a natural buffer or breakwater to absorb waves and trap sediments