On February 5, 2015 Fabco Industries, Inc, the leader in storm management solutions, gave a presentation at the "Green Solutions to Stormwater Pollution" Forum.
The Forum was organized by Citizens Campaign for the Environment (CCE),National Wildlife Federation and the Suffolk County Planning Commission. The three major organizations had joined efforts to educate businesses and the general public about the value and importance of green infrastructure and raise environmental awareness among various stakeholders. Participants had an opportunity to learn more about new green infrastructure approaches and find out how these innovative methods can better protect natural resources.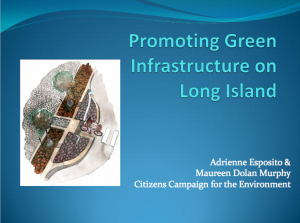 Fabco discussed the many benefits of the FocalPoint biofiltration system and the wide variety of other high-quality filtration products Fabco offers that can complement green infrastructure designs and applications. To see Fabco's presentation, please click on http://www.citizenscampaign.org/PDFs/Fabco%20-%20New%20mod_final.pdf
But what is green infrastructure and why is it important?
Green infrastructure approaches have proven to dramatically reduce flooding, save energy resources, prevent pollution and enhance property values. It's a smart, efficient and cost-effective way to tap into natural landscapes to manage stormwater.
Green infrastructure is a powerful and practical solution that uses a variety of natural resources to manage water and give rise to cleaner and healthier environments. While preserving natural landscapes, green infrastructure is a proven method to capture and reuse stormwater to establish, rebuild or repair natural hydrologic systems. In recent times, Fabco has been successfully implementing green infrastructure solutions and addressing a wide array of environmental challenges.
Local government and business leaders were among the presenters during this important three-hour event. The list of presenters includes:
Dave Calone, Suffolk County Planning Department Chairman
Adrienne Esposito, CCE Executive Director
Maureen Krudner, EPA Region 2 Green Infrastructure Coordinator
Long Island municipalities, consultants, developers and community residents were in attendance to learn about new crucial and cost-effective ways to overcome environmental and economic challenges.. A number of successful case studies were shared attesting to the significance of green technology and its long-term impact on communities. In addition, the participants had an opportunity to find out how certain green infrastructure BMPs (i.e. rain gardens, permeable pavement, green roof, bioswales, etc.) can protect coastlines and local waterways during rain or snow events.
Separately, Fabco's  innovative technical solutions will be featured in a comprehensive report entitled: Managing Stormwater Natural Vegetation and Green Methodologies Guidance for Municipalities and Developers. The report will include a wide variety of topics focusing on green infrastructures approaches, strategies and solutions designed to create a sustainable Long Island.