Fabco Industries, Inc, a leader in stormwater management, provides custom evolved stormwater solutions to treat problems at the source. We design and manufacture high-performance stormwater filter systems, such as our Trench Drain Filter, for various treatment applications including retrofits, new construction, and green infrastructure.
Fabco's Trench Drain Filter is one of many innovative products designed for both commercial and residential use. The Trench Drain Filter is a highly effective, easy-to-install stormwater filter designed to fit a wide range of flat-bottomed, trench drain inlets. The simple design traps the common sediment, trash, and debris within the trench while allowing the pretreated runoff water to pass through the filter and exit through the storm drain system.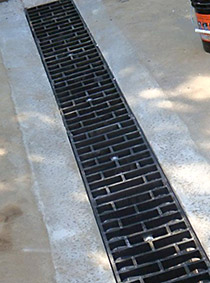 A trench drain is a specific type of floor drain characterized by long length and narrow width. They are optimized for rapid evacuation of surface water with the cross-section of the drain being designed for the anticipated water flow. When strategically positioned across an open area. Trench drain's intercept excess rain water flowing across the surface to prevent accumulation and then diverts it to safer collection area. Trench drains can vary from 1 inch to 2 feet in width, with depths that can reach 2 or more feet.
Fabco's Trench Drain Filter™ is comprised of one or more perforated metal square tubes called debris shields and a Bypass hood assembly.  The perforated debris shield also encloses are placeable oil absorbent product for treating the water.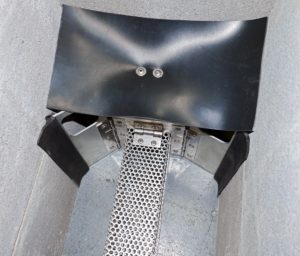 During normal operation, surface water entering the trench drain grate falls to the bottom of the channel and flows towards the outlet pipe. To effectively treat this flow of water, the Fabco Trench Drain Filter is installed a few inches in front of the outlet pipe, positioned to intercept and treat the full flow.
If you think Febco's Trench Drain Filter may be the perfect evolved solution for your stormwater problem, please contact us today. Click here for complete specifications and a further description of the product.