Fabco Industries has recently been awarded a major stormwater retrofit project by a large East coast energy supplier.  This project is an extension of a successful collaboration that has endured for over 10 years, as Fabco StormBasin™ and StormSack™ units have been installed at the company's other locations throughout the region.  Excellent product performance and dependable customer service have led to a solid working relationship, resulting in the installation of an additional 90+ StormBasin™ and StormPod™ filtering units.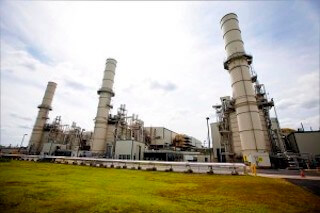 This latest project is on a site that has been in use for nearly 100 years and stretches over 250 acres. Like many heavy industrial locations from the early 1900's, it was situated on rivers and canals to provide easy access and reduce transportation costs for the supply of fuels, supporting materials and removal of wastes.  Over its life, the site has been heavily developed and features numerous buildings, roads, maintenance yards and an underground network of pipes, conduits and utilities, including an extensive stormwater system which discharges directly to the surrounding waterways.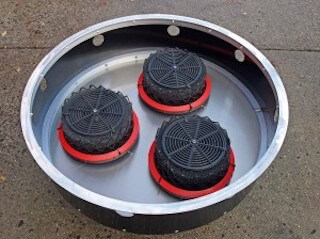 When considering this project, the company realized that any major construction or excavation needed to support large centralized stormwater treatment devices, would add significant time for planning and review, and enormous cost. As an alternative, a decentralized stormwater treatment approach was selected using Fabco's StormBasin™ and StormPod™ catch basin insert filters. Previous first-hand experience, had confirmed the StormBasin™ and StormPod™'s effectiveness on oils, hydrocarbon compounds and contaminated sediments and particles.  In addition, StormBasin™ and StormPod™ units are cost-effective and can be easily maintained with no special equipment.
The project began with an on-site walking survey, measuring and evaluating each of the drains. In the end, over 90 insert filters would be needed. Nearly half of them required some type of modification or change to accommodate extremely large, shallow or narrow drains and inlets.  Upon delivering the units, Fabco initiated intense training, educating every member of the facilities support team about the installation process. Fabco remained on-site during installation to make sure that the process would go smoothly and each product would fit properly.
When customers buy Fabco, more than just a product, they are getting a solution.