In accordance with the Trout Brook Watershed Management plan prepared by the city of South Portland, M.E., Fabco Industries recently installed a FocalPoint Biofiltration System in a high volume area to preserve the water quality and aquatic habitat of Trout Brook. The system was installed at the nearby Church of the Latter Day Saints, which funnels a heavy amount of stormwater runoff into the stream. Fabco worked with the city of South Portland and the Cumberland County Soil and Water Conservation District to execute the project.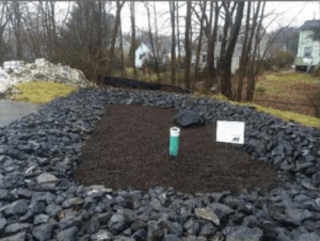 Prior to installation, Fabco completed a watershed study, worked with the city to locate and optimize the design of the system, and served as the main engineer on the project. Trout Brook has been listed as an urban impaired stream by the Maine Department of Environmental Protection because it is not meeting state water quality classifications due to polluted runoff and increased storm flow volume from impervious surfaces such as rooftops, parking lots and roads. The city outlined several goals in its approach to restoring Trout Brook: 1) ensuring that the watershed provides a good habitat for fish and other wildlife, 2) improving the management of stormwater runoff for existing development in an effort to improve stormwater quality, and 3) building community support for the protection and enhancement of the land and water resources of the Trout Brook watershed.
Considering the area was heavily developed, FocalPoint represented an ideal choice as a space-efficient, cost-effective green infrastructure solution.