By Jeff Fullmer, Fabco Watershed and Regulatory Services Coordinator
In cooperation with the Berks County Pennsylvania Conservation District (BCCD), Fabco and Exeter Supply Company, its Eastern PA product distribution partner, installed a StormBasin™ Filter Cartridge Catch Basin Insert to demonstrate its operation and maintenance as a decentralized stormwater retrofit best management practice (BMP).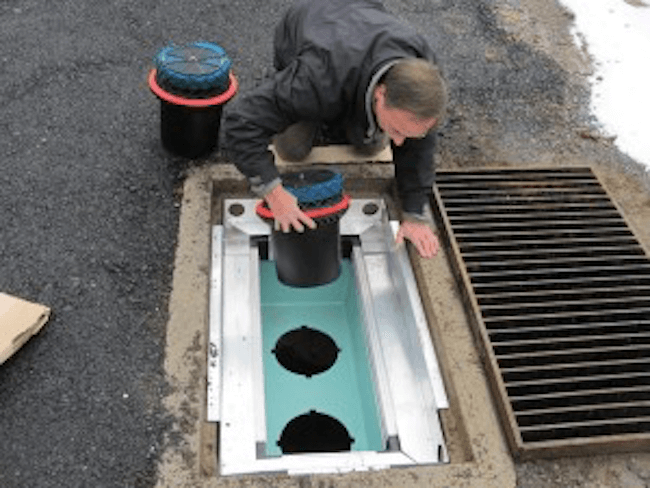 In February 2013, a 2-cartridge StormBasin™ was installed into a drop inlet catch basin in the parking area of the conservation district's offices in Leesport, PA as a component of the district's innovative effort to develop and maintain a stormwater BMP interpretive trail. The trail was developed to educate visitors about stormwater management, non-point source pollution and BMP strategies for reducing water pollution that can be implemented at home, at work, or in the community.
After observing the installation process, the BCCD staff monitored the function of the StormBasin™ under different seasons, climates and types of precipitation events. The BCCD later facilitated a maintenance demonstration with Fabco and Exeter during a Stormwater Retrofit Training Session for stormwater managers and engineering consultants led by the non-profit Center for Watershed Protection (http://www.cwp.org/) in October 2013.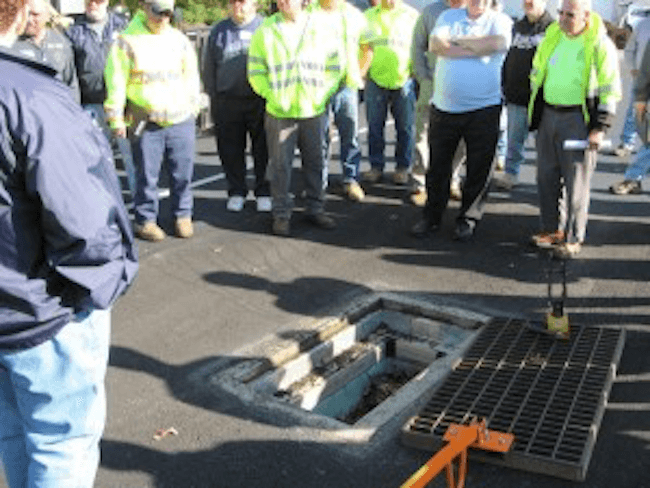 The StormBasin™ maintenance demonstration (Click Here for video) included removing collected sediments, floatables and debris from the insert using vactor equipment, changing the filter cartridges, and estimating the amount of material captured by the insert and filters over a 9 month time period utilizing a weight scale. Fabco generally recommends biannual clean out of inserts and an annual change of filter cartridges. The StormBasin™ was observed to have functioned as designed during the demonstration period and there were no reported issues with flow even during high volume precipitation events due to its hooded bypass design.  A number of maintenance demonstration observers noted the amount of stormwater pollutants that were captured by the insert and filter cartridges in just 9 months while others commented on the speed of cleaning out the insert using vacuum equipment and replacement of filter cartridges.
Fabco applauds the BCCD (http://berkscd.com/) for taking the initiative to demonstrate various stormwater management practices in the field through its BMP interpretive trail and to provide increased educational opportunities for communities to learn about innovative stormwater practices.